There are several options available to entrepreneurs, both local and international, who would like
to set up a business in Haiti.
Sole Proprietorship
Registered Partnership
Limited Liability Company
Corporation
Subsidiary of a Foreign Company
The following will provide an overview of the procedures to follow for the Corporation (Société Anonyme) and the subsidiary. Incorporating a company in Haiti takes approximately six (6) weeks and is very inexpensive.
Incorporation procedures
The "Société Anonyme" which is Haiti's equivalent of a Corporation is the most common business structure as it affords its shareholders protection from personal liability. The following steps are necessary to incorporate a company.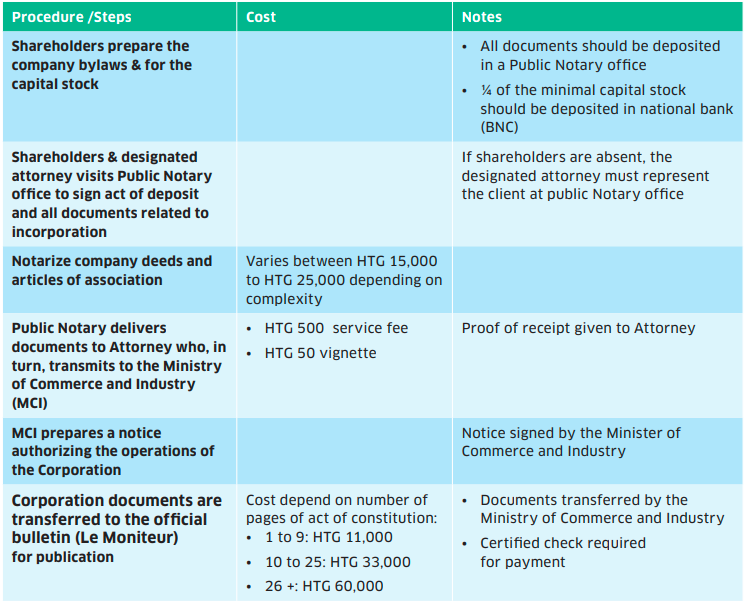 Once the Company is published in the official bulletin "Le Moniteur", the Company's representative handles the administrative procedures. Meeting the requirements of the Haitian Tax Authorities (Direction Générale des Impôts):
Presentation of the opening balance sheet;
Obtaining a Tax Identification number;
Payment of Tax on issued shares;
Obtain an operating license (Patente);
Notifying the Ministry of Social Affairs and Labor about hiring plans;
Register for worker's health / accident insurance with (OFATMA) within 15 days of opening 4- Register with the Retirement Insurance Office (ONA) within 15 days of opening.
It is also possible for foreign investors to create a subsidiary in Haiti. The subsidiary should be registered at the Registry of The Ministry of Commerce and Industry, as well as with all relevant fiscal and social authorities in Haiti. For the creation of a subsidiary It is mandatory to hire a lawyer to conduct all the steps for the registration of the company. The table below summarizes the main steps for creating a subsidiary in Haiti. The formalities that apply for a Corporation, also apply to a subsidiary once published in "Le Moniteur".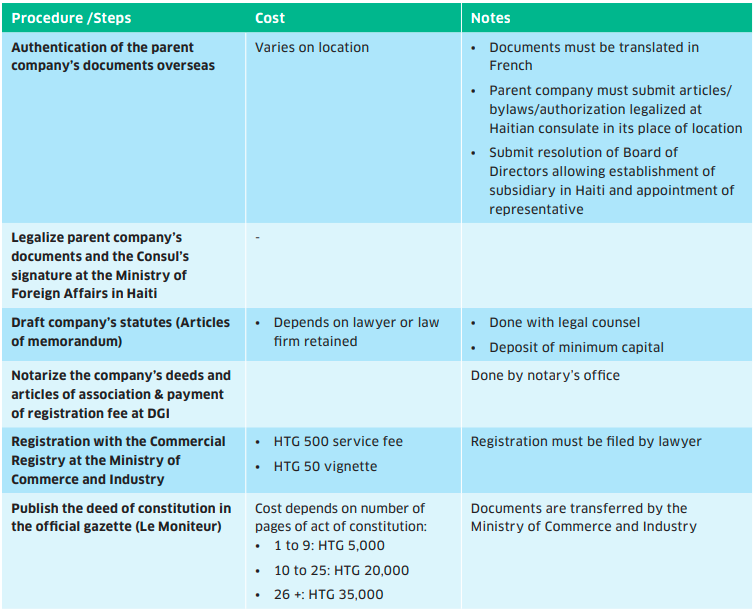 For more information, click here.